> 'The Hovel', under the Royal Exchange 📍
A cobbled underground service road built in 1921 and written about in 1962 in the Manchester Evening Chronicle (Underground Manchester - Keith Warrender, 1962:66). It is accessed on Old Bank Street from a vehicle elevator, and contains a turntable to allow vehicles to be turned around.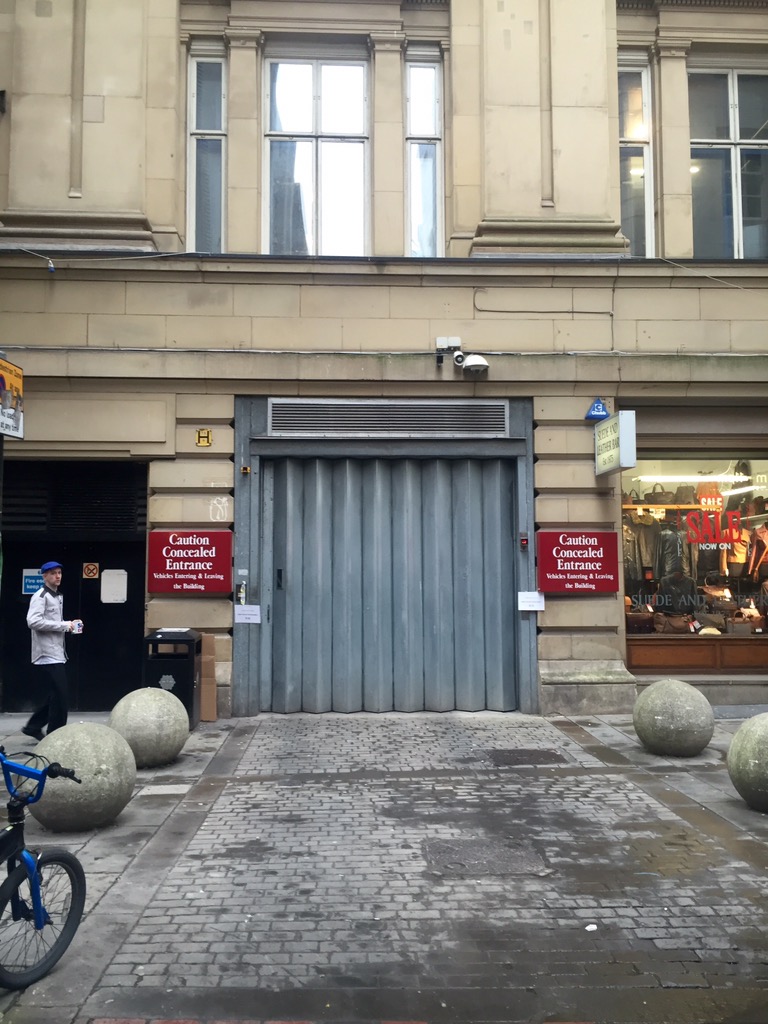 Pictured is the view looking at the doorway, and in the opposite direction someone leaving the space in their car.
In the mid 60's I worked in the wharehouse of Boots the Chemist in the Royal Exchange. If you walk along Old Bank Street which leads from Cross Street to St Ann's Square you will see a grilled opening on the right. This was a lift that could accommodate very large delivery vans which descended to the level of Boots stockrooms. It was operated by a chap who looked like a miniature version of Fred Dibnah, including the cap. Once at the bottom the tunnels were large enough for the lorries to drive in the direction of Market Street and the stock rooms. At the end of the tunnel was a large turn-table set in the ground. The lorry would stop on this, the counter balance or whatever must have been very sophisticated, because one person could quite easily push the lorry around to face in other way so that it could just drive out having been unloaded.

There were numerous rooms, some very large, and tunnels leading off in various direction.

If you walk through the Royal Exchange Arcade from Cross Street to the Square as you enter, on the right, opposite the cafe, is a wooden door. This was the staff entrance for Boots and other premises at the time. From memeory it leads down 2 floors to the stock rooms/turn-table I mentioned above and various other little hidey-holes
George Mould writes in Manchester Memories about how the space under the Royal Exchange was used in the past.
In the underground regions of the Royal Exchange was the Manchester Limited with cubicles where business men from the Exchange floor above could foregather for a coffee or a meal. We held several Manchester Press Balls down there.