> Walkers Croft tunnel 📍
Walkers Croft tunnel leads beyond metal gates along the route of the original road by the side of the River Irk. Walkers Croft itself was a cemetery and chapel linked with the Manchester Union Workhouse. The route is connected to Long Millgate by the wooden bridge.
The burial ground was used from 1815–1832 and belonged to the Collegiate Church (now Manchester Cathedral). It is believed there were up to 40,000 burials, many of which were cholera victims. Victoria Station was built over the site, with much of the area buried as the level was raised. The cemetery lies beneath the Metrolink tram platforms with the work house on the northern side of the station, overlapping the arena. At times station redevelopment work has turned up human remains which have been re-interred at Southern Cemetery.
You can see the area as it was in 1848 on Sheet 23 of this 1850 Ordnance Survey map. You can see photos from inside in this Victoria Under Ground/Walkers Croft Feb 2010 report on 28DaysLater.
A Drunk Pandemic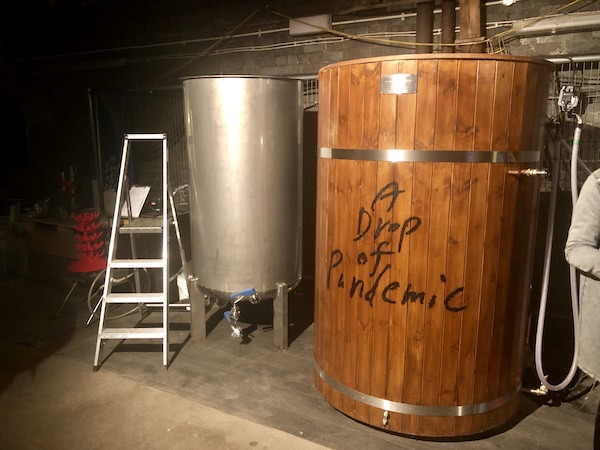 In 2019 Manchester International Festival included an event called A Drunk Pandemic. Contact Young Curators invited Tokyo's Chim↑Pom art collective to create a brewery in the Walker Croft tunnels. Inspired by the stories of Manchester's cholera epidemic, and the relative protection of drinking beer instead of water, installations (featuring their 'Super Rat' characters) were created to connect the subject of sewers, waste and disease. Pub Pandemic was created just outside the gates of Walkers Croft, where the beer brewed in the tunnel could be enjoyed by visitors. Patrons could then donate their own processed beer via a urinal where it was being incorporated into clay bricks which can be seen in the photos below. Sadly the brewery and pub are only present for the duration of the festival.