> Wooden Bridge over River Irk 📍
This bridge joins Walkers Croft to Todd Street / Long Millgate, and may well date back beyond 1650, as a bridge at this position is shown on Berry's 1650 map. Now hidden beneath Victoria Station in the Irk Culvert, this bridge is preserved and used as a utility tunnel.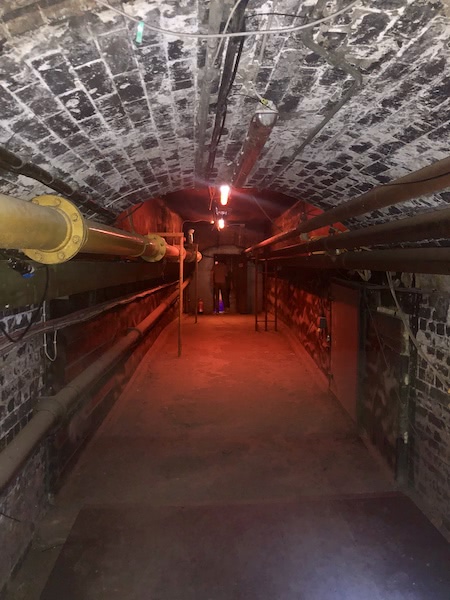 20ft below the Station can be found the original cattle bridge, which linked Long Millgate with Walkers Croft. It is now covered over and serves as a utility tunnel.
I do suggest visiting Ojay's entry on 28DaysLater as there are some fantastic photos documenting his journey towards the Irwell from Bridge down this culvert. Manchester Council's Cathedral Conservation Area site has a lot to say about the area, and specifically mentions this bridge.
The first Victoria Station, designed by George Stevenson, was opened in 1844 on a former burial ground in Hunt's Bank. It consisted of a single platform to which the only access was a wooden footbridge over the River Irk. By 1901 the Station had grown to its present size and Todd Street had been widened in the meantime to provide a more appropriate approach.
You can see this as the original access route for the single platform Victoria Station on the 1845 Ordnance Survey Map in John Rylands University Library online catalogue. It is obscured by a higher level bridge on the 1891 Ordnance Survey Map, which labels 'Phoenix (Corn) Mill' on Station Approach (marked on earlier maps as Mill Brow) as it leads to Todd Street. There is another report in Remnants as ruins: the Irk culvert, Manchester. The bridge is also discussed in Underground Manchester (Warrender, 2007:73).