> Remains of Brindley's Cloverleaf Weir on Potato Wharf 📍
Here the Bridgewater drains into the Medlock though a tumbling weir. Brindley is also responsible for the similar Cornbrook Weir. The tunnel that this weir drains into joins the Medlock next to the outfall of the Medlock Diversion Tunnel. The overflow and associated tunnel are grade II listed structures.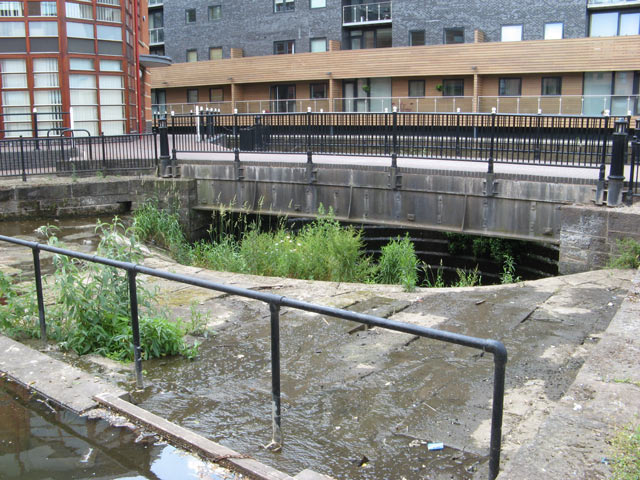 On the side of Castle-field is a large wharf, and a larger one intended to be in the centre of this field, formerly a Roman camp. There is a large and beautiful wear composed of six segments of a circle, the whole circumference 366 yards, which acts by the river Madlock [sic], in the same manner as that at Cornbroke [sic], to supply the canal.
You can see the original cloverleaf design of the weir if you zoom in to the south-east corner of William Green's 1794 'Plan of Manchester & Salford'. There is a great write up of the history of this weir on Grace's Guide to British Industrial History. There is another page about the weir on Manchester History. There is one reasonable photo on Castlefield Canal Heritage Walk.